---
About us
Capitol Blue Print is Springfield's foremost technology leader in print reproduction. Our professional team looks forward to providing you with the solutions to meet all of your printing & finishing expectations. We Print Springfield....and beyond!
More about us →
Showcase
Working is easy when you LOVE what you do & enjoy the clients you work for. We are proud of the products we produce...Thank you for allowing us to help produce your vision!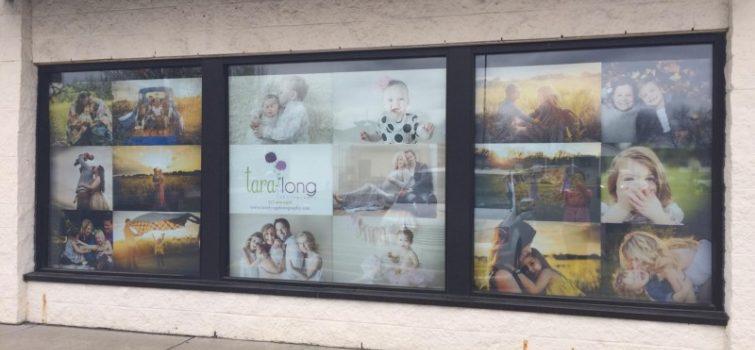 When faced with the question of how best to promote her photography business, cover her studio windows, and decorate the outside her space within the strip mall, Tara Long turned to us for ideas.  Working with her to help layout some of her tremendous photos, we printed her work on one of our high quality graphics printers.  The boards ended up filling the space of each window (72"w x 66"h).  The prints were mounted on our premium foam core to prevent "bowing" and laminated to protect the piece.  It doesn't take much to decorate, advertise, block the sun, and showcase your work!  Start to finish, this project was turned around in a couple of days!
---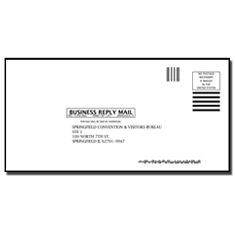 SCVB asked us to reproduce a "business reply envelope" for use with an upcoming survey they were sending to members.  They provided us a printed copy of the current business reply envelope they were using.  We realized that the barcodes and setup of the envelope was strictly regulated by the US Postal Service and we wanted to insure that our printed piece would not be rejected by the Post Office.  Therefore, we went back to the client and asked for their usps.com login information and completed the online design offered by US Postal Service.  Upon approval of type-setting, we printed the envelopes in black ink and turned the project around on-time and on-budget for SCVB.  Thank you SCVB for allowing us to serve!
---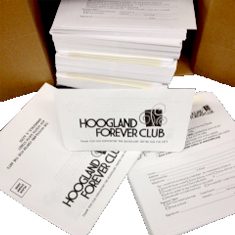 The Hoogland Center for the Arts recently asked us to match a "mock-up" they drew up of an envelope to encourage donation by their audience members.  Our graphic designers setup the envelope and type-set according to their request.  We kept the Hoogland Center involved with the entire process through digital PDF proofs sent to them via email.  We were able to print both sides of a "remittance envelope" in all black ink.  The black ink print allowed them to maximize their budget for this project and insure the quick turnaround they requested.  As a result, the Hoogland Center has successfully raised funds by distributing these envelopes with each playbill.  Thank you Hoogland Center for allowing us to do our small part in "keeping your doors open," your continued loyalty helps keep our doors open!
---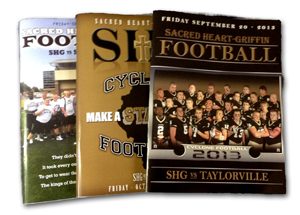 The "Football Moms" of SHG's Varsity Team entrust our expertise in helping them produce the Programs for all of Football Home Games.
---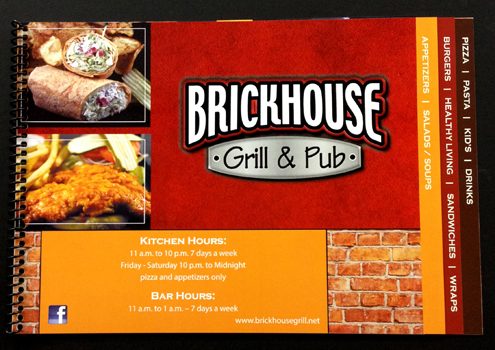 The Brickhouse asked us if we were "up for the challenge" of producing durable menus for them....our answer was "Of Course!"  We coordinated efforts with the graphic designer to create a menu that we could print on our Color Presses on a "Plastic-Paper."  The final menus were printed with our Xerox ColorPress on 11mm plastic paper.  We then collated the menus together and punched them for coil binding.  We used a black plastic coil binder to coordinate colors and provide a durable binder.  These menus will not tear, be destroyed by water, or get bent easily.  Mission accomplished!  Thanks to the Brickhouse and Will Hoecker for allowing us to meet your printing needs.  Support local business....www.brickhousegrill.net!
---