All Products
By Event
Services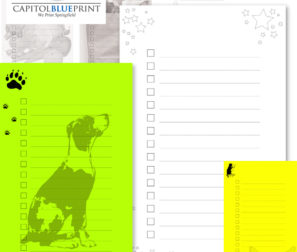 Product Details
Also Known As: Chore List, Honey-Do List, Grocery List, To Do List, Scratch Pads, Bucket List, Check-Off List, Travel Packing List, Vacation List, Medication List, Homework List, To-Do List Pads, Bridal Game List Pads
Stay organized and on-task.  Customize your To-Do List, Grocery List, Chore List, Bucket List, Summer Kid List, Vacation Packing List, Medication List, Homework List, etc. etc.  Customize your list items on our website or leave the lines blank to be filled in later.  We will print the list and create notepads.
---
Place Order / Request Estimate →
---
Stay Informed of Deals
Keep up with new deals on Facebook.
---
Savings
Current Special
WIN a "Back-to-School" Canvas AND $50 for Classroom!
ORDER YOUR SIGNS & BANNERS NOW