---
About us
Capitol Blue Print is Springfield's foremost technology leader in print reproduction. Our professional team looks forward to providing you with the solutions to meet all of your printing & finishing expectations. We Print Springfield....and beyond!
More about us →
Showcase
Working is easy when you LOVE what you do & enjoy the clients you work for. We are proud of the products we produce...Thank you for allowing us to help produce your vision!

Think Happy Gilmore!  Need a large check for a photo-op?  Don't want to setup the big check for printing?  Look no further, use our online design tool to setup your own 36" x 18" Big Check.  Your Check Presentation couldn't be easier using our online tool.  Once you are happy with your design, submit your order and we will print the check and mount it to rigid foam core.  CLICK HERE TO CREATE YOUR BIG CHECK!
---

Here's an idea for your seasonal fundraiser.  Cardstock - printed full color, perforated multiple times for easy tear-off sponsor coupons, accordian folded, and sold to our supportive community members!  You gather the sponsors and we will take care of the rest!
---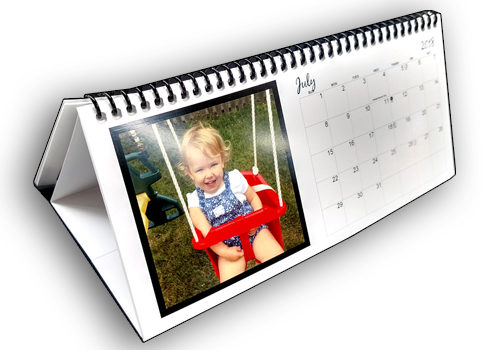 Easy to Do = Just send us the 12 photos you want to include in your calendar.  Quick Turnaround = We can crank these out within 2-3 business days.  Great Gift Idea = Give the gift of memories and smiles.  Options = Choose from traditional 8.50x11 wall calendars, Small desk top calendars, Magnet calendars, and many more. Click here to explore Calendars
---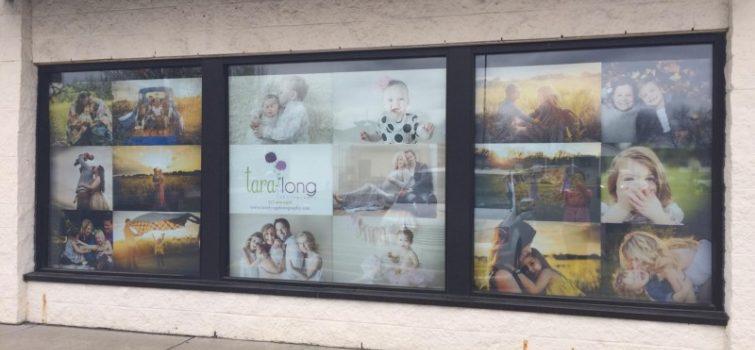 When faced with the question of how best to promote her photography business, cover her studio windows, and decorate the outside her space within the strip mall, Tara Long turned to us for ideas.  Working with her to help layout some of her tremendous photos, we printed her work on one of our high quality graphics printers.  The boards ended up filling the space of each window (72"w x 66"h).  The prints were mounted on our premium foam core to prevent "bowing" and laminated to protect the piece.  It doesn't take much to decorate, advertise, block the sun, and showcase your work!  Start to finish, this project was turned around in a couple of days!  Click here to explore Posters
---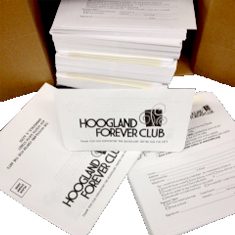 The Hoogland Center for the Arts recently asked us to match a "mock-up" they drew up of an envelope to encourage donation by their audience members.  Our graphic designers setup the envelope and type-set according to their request.  We kept the Hoogland Center involved with the entire process through digital PDF proofs sent to them via email.  We were able to print both sides of a "remittance envelope" in all black ink.  The black ink print allowed them to maximize their budget for this project and insure the quick turnaround they requested.  As a result, the Hoogland Center has successfully raised funds by distributing these envelopes with each playbill.  Thank you Hoogland Center for allowing us to do our small part in "keeping your doors open," your continued loyalty helps keep our doors open! Click here to explore Envelopes
---