All Products
By Event
Services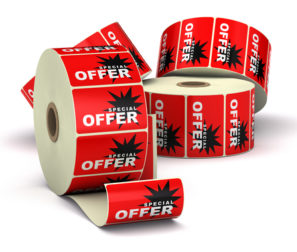 Product Details
Also Known As: bumper stickers, labels, roll of stickers, stickers on roll, stamps, name tags
Supporting a candidate and want to display their name on your bumper? Need to label your food item with nutritional facts? Looking for an easy way to seal an envelope while promoting your company logo? Need to hand out "I Voted" stickers? Have a need to raise awareness or bring caution by labeling appropriately? Want to make your event more professional with custom printed labels on cups? Have a need to label anything or anyone? Full color or Black/White - Indoor or Outdoor use - Square or Circular - Permanent or Removable - WE CAN HELP!! We can even help you design your label.
---
Place Order / Request Estimate →
---
Stay Informed of Deals
Keep up with new deals on Facebook.
---